Baloufino
4/5-2004, 172 cm/17 hh
breeder Gestüt Lewitz, Steinfeld, Tyskland
Oldenburger Springpferd
WFFS-negative
Baloufino was sold from Gestüt Lewitz/P Schockemöhle as a Young horse to Tadeusz Koza. His 2 children competed Baloufino up to 140 cm (CC) classes, also international, as a young horse Youngster Tour in Linz with Tomasz Koza. He has a very nice temperament, and is a masculine horse who also have good gaits. He has a superb rideability and is very comfortable to sit. Anyone can handle him, he is very polite.
His sire Baloubet du Rouet is one of the most successful stallions in modern time, both as a competition horse and breeding sire. The grand sire was exported to Australia where he competed at advanced level and  was a popular sire. Great grand sire Lauriston competed 160 cm. Click on the names in the pedigree to read more about them. 
The dam line is very well producing, with a lot of international show jumpers  in 145-160 cm classes. Baloufino has a full sister, Lady Baloubet (150),and the half sisters Baloumina de Ry (160 by Balou du Rouet) and Chassana (145 by Chacco Blue). See more in the copied text from Hippomundo below (2019). 
 

 

 

 

Almé Z

Viti

Mesange du Rouet                

Starter           

Badine            

Drosselfee       

Griseldis                 

 Gomea                

Goldess
 e Dimenos-Sandro-Gralsritter-Domspatz
 NIGRETTI Hannover Stutenstamm 1189015 Schridde 736
3rd dam:
Diamonds 3 ( Goldess ) ( Old, 1991, black brown mare by Dimenos )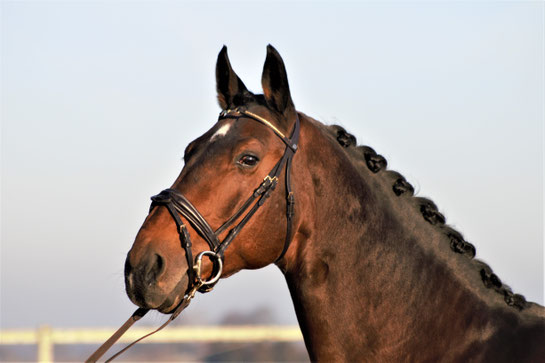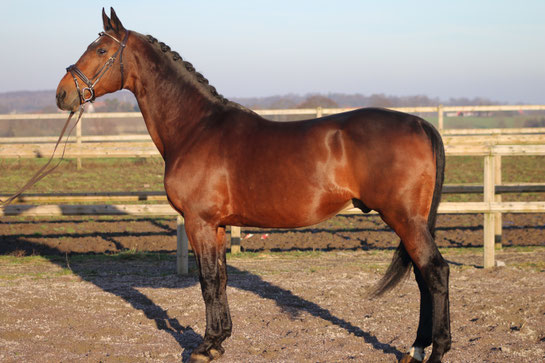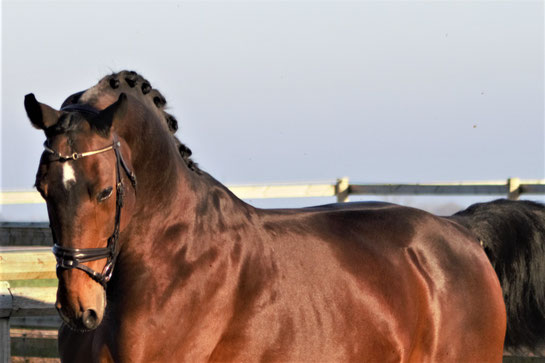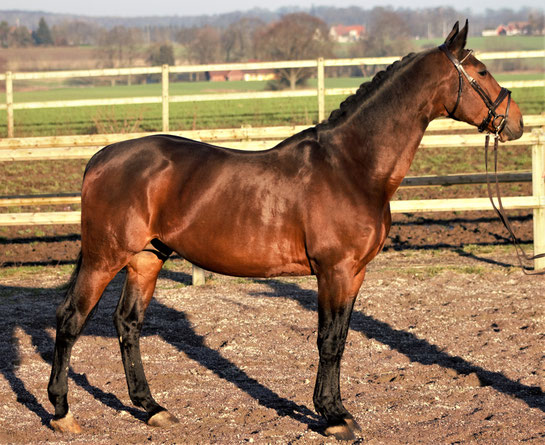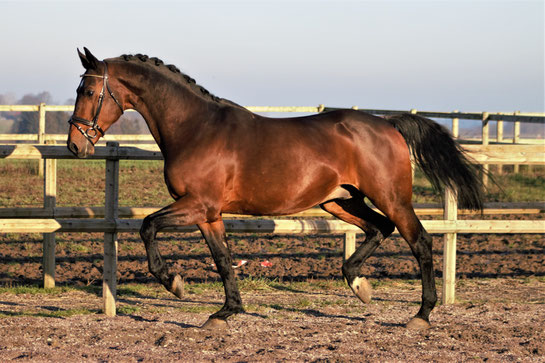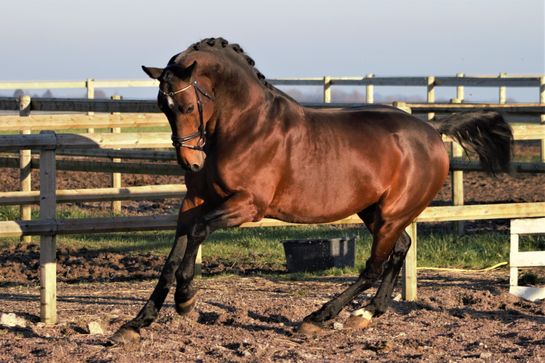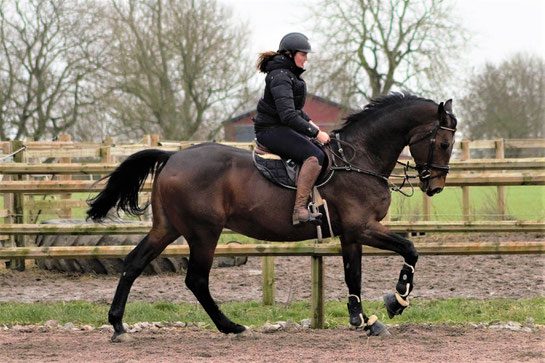 With help from mr Lukasz Pogorzelski at the Polish Equestrian Federation (PJZ) we have some of Baluofinos results from his 5th to his 8th year of age (all clear rounds):
Zbrosławice 05.08.2009 Placed no 1 in N (120 cm)
Boguslawice 30.04.2010 Placed no 3-4 in N1 (125 cm) with score 8,0
Boguslawice 02.05.2010 Placed no 8 in the finale of Polish championship 6 yo horses
Lack 23.05.2010 Placed no 11 in N1 (125 cm) with 7,6
Leszno 18.02.2011 Placed no 3 in N (120 cm)
Leszno 19.02.2011 Placed no 8 in N1 (125 cm) Championship for 7 yo price money 60 zloty (no 8 in the finale with 4 faults)
Neustadt CSI** "Youngster Tour" 05.03.2011 Placed no 1 120 cm price money 60 euro
Zywiec 02.07.2011 Placed no 1 in C (130 cm)
Zywiec 03.07.2011 Placed no 2 in C (130 cm)
Warka 23.07.2011 Placed no 15 in C (130 cm) price money 20 zloty
Warka 24.07.2011 Placed no 2 in C1 (135 cm) price money 900 zloty
Leszno 14.10.2011 Placed no 3 in C (130 cm) price money 450 zloty
Wroclaw 05.12.2011 Placed no 3 
Jaszkowo 23.10.2011 Placed no 6 in the final round CC (140 cm) price money 300 zloty
Jaszkowo 18.02.2012 Placed no 9 in C (130 cm) price money 50 zloty
Lezno 24.02.2012 Placed no 19 in CC (140 cm) price money 40 zloty
Pezinok CSI** 07-09.2012 Placed no 1 120 cm in round 2, one down in the finale
Michalowice 18.11.2012 no 11 in C (130 cm)
He has more clear rounds (C.R) in 120-140 cm but was not in the price money
 Leszno 18.02.2011 CR in N1 (125 cm)
Drzonkow 26.05.2011 C.R in N (120 cm)
Mozna 29.05.2011 C.R in C/CC (130/140 cm)
Gajewniki 24.06.2011 C. R in CC (140 cm)
Jaszkowo 21.10.2011 C.R in CC (140 cm)
Lodz 18.11.2011 C.R in C (130 cm)
 All results found via Google, taken from the arranging riding clubs result lists. Polish Equestrian Federation didn´t have all results in a database back in 2011-2012